Neutral Snap
with
Sat, Feb 1
Doors: 8:00 pm
Show:

10:00 pm
Ages 18 and Up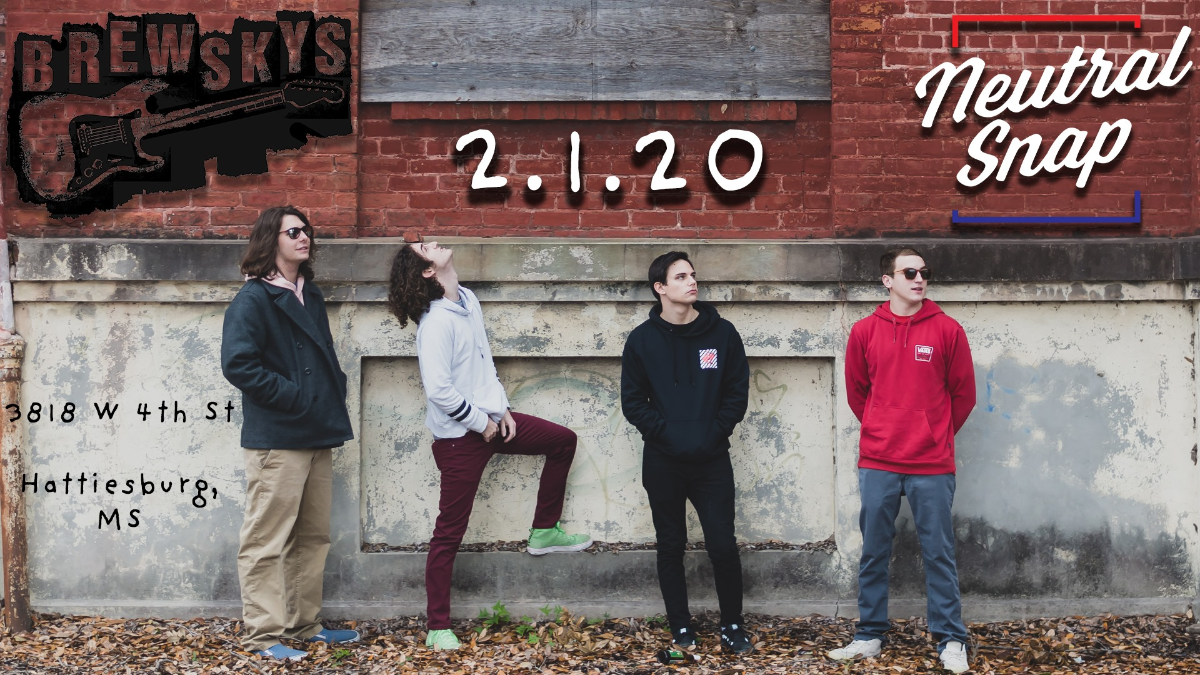 Additional Info
SORRY I PASSED OUT TOUR
Neutral Snap is an up-and-coming 4-piece pop-punk band from New Orleans. The fusion of music styles & songwriting influences belonging to J.P Brown (Guitar), Joshua Latham (Vocals), Dominick Conforte (Bass) & Ray-Ray Boudreaux (Drums) is on full display at all times, featuring catchy pop melodies alongside ruthless breakdowns.

Neutral Snap stormed onto the scene in December of 2018 with the release of "Yellow
Suitcase," the first of three singles to come from their debut album. "Yellow Suitcase" would go to garner significant attention and positive reviews within the industry. Following the release of their second single, "Perfect Spiral," the group would go on to sign with Orange Music Records out of New Orleans, Louisiana, and would go on to release their third and final single, "Bed Sweats," with the label.

On January 10th, 2020 Neutral Snap released their debut album, Sorry, I Passed Out through Orange Music Records and Amplified Distribution. The album features saucy hits such as "Butterscotch" and "Westin House." On January 17th, the group released a music video for "Butterscotch," filmed at Pelican Studio in New Orleans, and announced the 22-date Sorry, I Passed Out Tour.
Artists
Neutral Snap
Neutral Snap is a 5-piece rock band hailing from New Orleans, Louisiana. The group consists of original members J.P Brown (Guitar), Walker Legrand (Guitar), and Joshua Latham (vocals) as well as Dominick Conforte (bass) and George Neyrey V (Drums).
Their performance at the iconic Fred's in Tigerland during the LSU-Mississippi State weekend of 2015 was hallmarked by Shaquille O'Neal joining the group on stage to perform a song with them. The group burst onto the college music scene in the spring of 2017 with their "Make Live Music Great Again" tour. Upon returning home to Baton Rouge, the band switched their focus to writing their upcoming EP, despite being known as mostly a cover band prior to that point.
The group returned to the road in the summer of that year as they embarked on their "Stay Tuned" tour to publicize their upcoming EP. To close out a wildly successful summer tour, the boys returned home to perform to a sold out crowd at the iconic House of Blues in New Orleans.
On July 24, 2017, Neutral Snap released their debut single, Out of Formality on Spotify and other streaming services, which currently has over 7000 listens on Spotify!
That fall, they would go on to be noticed by and open for such national acts as Afroman, Metro Station, We The Kings, and indie pop duo Cherub.
Their debut EP "Stay Tuned" released on November 9, 2017 and currently has over 2000 listens on Spotify!